Fall Sycamores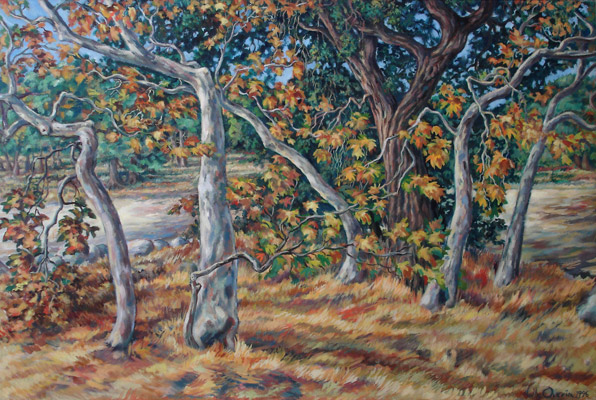 We found this spot at Placerita State Park on Highway 14. I lived close by at the time and my mother and I enjoyed numerous painting outings there. I liked the way these five sycamores seemed to be dancing around the old Oak tree. I imagine the Oak to be a kind-of mentor to the stretching, seeking Sycamores. While painting this scene, I enjoyed the challenge of trying to depict the grasses and leaves catching the wind in the trees' dance.
Medium: Oil on Canvas
Dimensions: 24 x 36 inches
Price $775.00 framed
Holly Overin can be reached at
hollyoverin@whittierartists.com
Look for Holly on Facebook!
Find more of Holly's work here:
Plein Air Paintings
Paintings of Animals
Browse more artwork by this artist: