Oyster Creek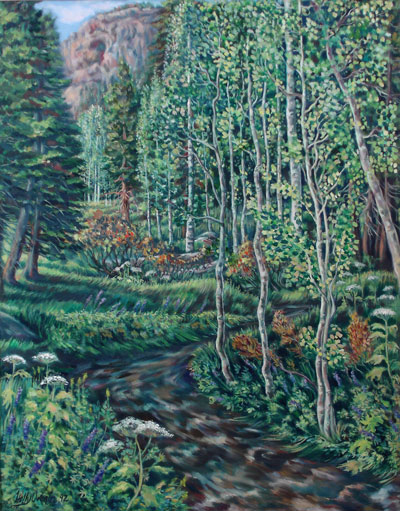 Oyster Creek runs its waters out of Silver Lake up on Rte 88 in the High Sierras. I have for many summers painted here in the midst of this Aspen forest. Although it is accessable for painting gear-laden folk in its proximity to the highway's steady stream of automobiles, the modern world is easily forgotten, Obscured by a magical breeze of sound. One feels far far away from it all, standing beside lava stone boulders on wildflower carpets. Aspen leaves shimmer and the creek waters sing their songs over colored stones.
Medium: Oil on Canvas
Dimensions: 22 x 28 inches
Price $550.00 framed
Holly Overin can be reached at
hollyoverin@whittierartists.com
Look for Holly on Facebook!
Find more of Holly's work here:
Plein Air Paintings
Paintings of Animals
Browse more artwork by this artist: