Gorilla Mother and Child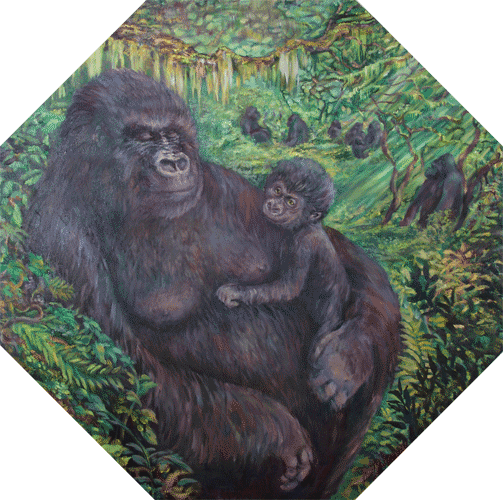 My feelings for Gorillas inspired this attempt at religious icon in animal art. They are peaceful, strong, social, yet solitary. I sense in them a Buddha-like quality. The fact that these Mountain Gorillas are endangered by human encroachment due to the mining of Colton; (a mineral used in cell phones) has instigated my boycott of this particular technology until some sort of fund can be set up out of the proceeds of the market to protect and preserve these noble beasts. It is difficult to believe that there remain only approximately 600 of them in the wild.
Medium: Oil on Canvas
Dimensions: Octagonal 36 x 36 inches
Price $825.00 unframed
Holly Overin can be reached at
hollyoverin@whittierartists.com
Look for Holly on Facebook!
Find more of Holly's work here:
Plein Air Paintings
Paintings of Animals
Browse more artwork by this artist: