Mermaid and Manatee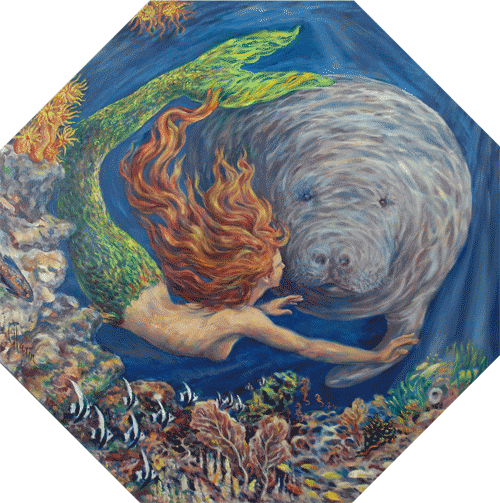 This painting is another fantasy reality scene. Manatee are endangered and their numbers are being reduced by engine propelled boat rudders offshore Florida waters. Mermaids have disappeared altogether due to human beings losing their illusions about myth and metaphor, while holding tight to the rudders of materialism in the name of science. In this painting each entity of a disappearing world unites together in farewell.
Medium: Oil on Canvas
Dimensions: Octagonal 36 x 36 inches
Price $725.00 unframed
SOLD
Prints and cards available
Holly Overin can be reached at
hollyoverin@whittierartists.com
Look for Holly on Facebook!
Find more of Holly's work here:
Plein Air Paintings
Paintings of Animals
Browse more artwork by this artist: