Plein Air Paintings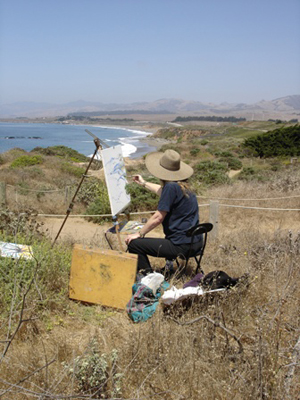 Growing up in Whittier, my mother, Whittier plein air painter Janet Church was also exploring her ability in art, working in watercolors, acrylics and oils and taking lessons from various Master teachers like Milford Zornes, Karl Seethaler and Taro Yashima. I was lucky to have her support and influence around me, encouraging me to explore the art path whenever I could. I learned the fundamentals of perspective and form under her tutelage. I took lessons from Taro Yashima in my teenage years, watching in amazement his reconstruction of form and light with color, how strokes of previously unseen colors could be conjured from the mind and applied to the subject making drab reality become a cascade of rich joy, truer than true. That is when I began seeing the material world in a new way. It was by painting that I learned to see. These paintings depict the things I love; animals, plants, trees and rocks. I hope they allow the viewer to feel the spirit of the wind animating their colors and forms.
Holly Overin can be reached at
hollyoverin@whittierartists.com
Look for Holly on Facebook!
Find more of Holly's work here:
Plein Air Paintings
Paintings of Animals