Hard Shell Gourds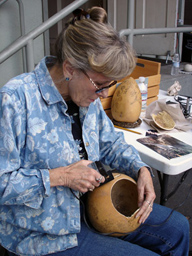 Several years ago I began alternating between working on a flat surface (watercolors) and a three dimensional art form (hard shell gourds). The gourds come in many shapes and sizes, each one has its own unique color, patterns and textures. These characteristics help me to decide what I am going to create. It's refreshing to be able pict up a gourd and hold it in my hands. I can then view it from many different angles to find out where I need to go with the design. First I burn the pattern onto the gourd, then I paint it with acrylics. Sometimes I cut the top off and clean out all the seeds and make a lidded container.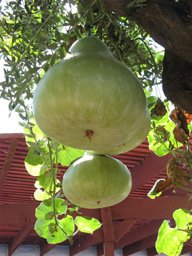 At times I will cut out parts of the design, giving another dimension to the gourd by letting light pass through. When I think I'm finished I apply a clear coat of acrylic to protect the finished piece.

I planted the gourd plants near my Olive tree and the vines started to climb up into the top of the tree. It makes it look like the Olive tree is growing the gourds. I just recently picked these and it will be about 6 months before they dry and I can paint on them.