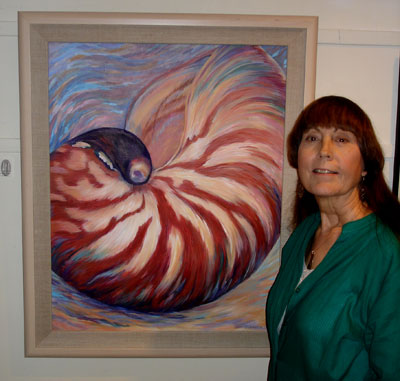 You can contact Vicki Schramm at:
Vicki.Schramm@WhittierArtists.com
All Paintings
Drawing and painting have been a great source of enjoyment for me as far back as I can remember. I was given wonderful opportunities as an art major in college, experimenting with a variety of two and three dimensional media.
I was fortunate to have both Yosh Nakamura and Jerry Romotsky as art instructors in college. I was impressed with their well organized way of presenting concepts. With their patience and support, they brought out the best from their students. I returned years later to take five more semesters of painting with Jerry Romotsky. That experience has had a lasting impact on my work.
After college, I enjoyed a long career in public school teaching, the last 12 years at Fairgrove Academy, a parent choice for the visual and performing arts and technology."
Drawing and painting have continued to be my focus, and I can never seem to satisfy my interest to learn more. I have spent time during the summers attending classes at Idyllwild Arts, and painting workshops in Colorado, with water media painter and author Stephen Quiller.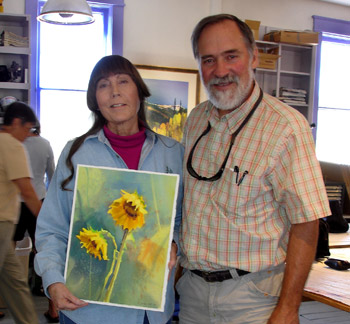 Vicki in Creede, Colorado with water media artist Stephen Quiller.
(Stephen did the sunflower painting as a demonstration for the class)
Drawing and painting is a form of self expression. Making time to draw and paint is a great source happiness for me. To take moments to enjoy a sunrise or appreciate light peeking through tree limbs; these times feed the need for me to stay connected to my art. The time to make sketches of things that inspire me is always peaceful and enjoyable. I see beauty in even the smallest things; patterns of light and shadow, the texture of tree bark and stones, the birds feasting in my outdoor feeder, or the stands of trees on the nearby hillside.
From my sketches, I create studies in black, gray, and white, often working with black crayon on tracing paper. This helps me find patterns of light and dark. Through studying the sketches, I plan a painting. I am not a realist, and I rarely work from photographs. I make a simple drawing on canvas or watercolor paper, and choose the media and the colors to help convey the mood I am trying to achieve. I enjoy working with the bright transparent qualities of acrylic paint and the velvety matte look of casein. It has been a great experience to be part of the WhittierArtists.com group of artists. I enjoy taking digital website photographs for many of them, and I get to see their ever progressing work, and hear about their inspirations.
I am most interested in collaborating with other artists and seeing the arts promoted in our community. We are fortunate to have the Whittier Art Gallery that has supported the arts in Whitter for over 70 years. I want to continue to see art enriching lives, as it has enriched mine.
Featured Artwork
(Click on a piece for more information)