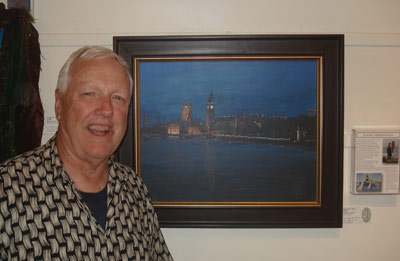 You can contact Jay Gould at:
JayGould@WhittierArtists.com
I have been interested in Art since I was a young boy. Both of my grandparents were professional artists. Because I enjoy nature and the out-of-doors, Plein Aire Painting is my favorite painting experience. I enjoy painting in my backyard studio, too. I paint in three mediums: oil, watercolor and acrylics. I have been commissioned to paint murals and am also known for my photography.
I am mostly self-taught and have studied art most of my life through college classes (Rio Hondo Community College), painting workshops, and private lessons. I have taken Plein Aire Watercolor Workshops in the High Sierras with Robert Reynolds (a Fine Arts Instructor at Cal Poly, SLO), and an oil painting workshop with Ron Chesley (a Fine Arts Instructor at The Art Center of Pasadena). I have studied with Watercolorist Pat Combs, and most recently with Alfred Tse.
I am currently active in three different Plein Aire Painting Groups: The Mid Valley Art Association Group (with Walter McNall), the So. California Plein Aire Painters Association (SOCALPAPA) and the Whittier Art Gallery Plein Aire Group. I was juried into the 2009 SOCALPAPA (Southern California Plein Air Painters Association) 'Painting the California Landscape Show' in the Mission San Juan Capistrano Barracks Gallery in 2009.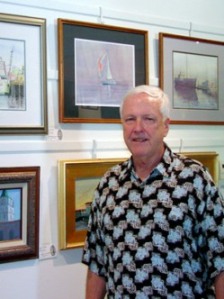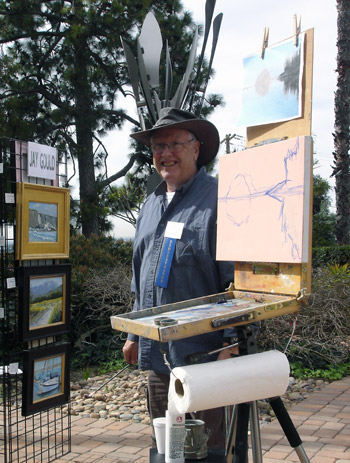 Jay Gould demonstrating at the Hillcrest Festival of Fine Arts, February 2010
Featured Artwork
(Click on a piece for more information)