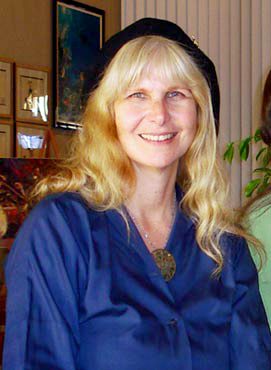 Find more of Holly Overin's work here:
Plein Air Paintings
Paintings of Animals
Holly Overin can be reached at
hollyoverin@whittierartists.com

Look for Holly Overin on Facebook
Holly has been re-creating animal life and nature in various art mediums for as long as she can remember. Artistic self-expression was greatly encouraged by her ' plein air' painter/mother,
Janet Church
. Holly learned to respect the fundamentals of drawing, painting and sculpture as laid down by master artists of the Renaissance, 19th and 20th century. Observing classical works on museum outings, watching her mother paint, and joining her in nature, activated an enthusiasm in utilizing oils and watercolors to record the rapidly disappearing southern California landscape where she grew up.
In high school, Holly studied with award-winning children's book writer and illustrator, Taro Yashima. Taro's artistic vision incorporated both Eastern and Western painting traditions into a lush impressionism and spontaneous 'Zen-like' calligraphic style. After graduating from The California College of Arts and Crafts in Oakland, CA and taking art and animation classes at Los Angeles City College, She came home to Whittier and began teaching art principles privately and in public after-school art programs.
"I think that learning how to draw, paint or sculpt is a process that anyone who truly desires it can readily discover. There are applicable tools comparable to the notes, chords, scales and time in music. Visual art is simply another language, which translates messages from space to plane. A clear foundation can dispel the aura of difficulty about representational art. If given the chance, every child and adult can learn these age-old tools. Achieving mastery is the ongoing excitement and wondrous challenge of the practice. Therefore, an understanding of the basics is well worth the effort. As those early cave-artists intuitively deduced, artistic creation magically stimulates the dreamer within us and aids our ability to manifest those dreams. In modern terms, connection points between right and left brain-lobes are strengthened.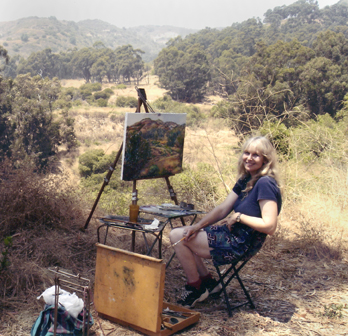 As an artist and art teacher, I am happy to be a contributor to this transformational process. I believe that either by creating art or appreciating art, we can travel into our society's collective ideas as well as experience individual insights of life's past, present and future, thus discovering the unknown in ourselves and in the ever- changing world around us."
Holly teaches adults and children the tools of art. Her method, handed down to her by her mother, artist Janet Church, helps students understand how to convey form, impressionist color harmonies, composition and perspective in oils. See student
Ali's painting portfolio
representing five years of study at Janet's Art School.
More of Holly's work, as well as her mother's paintings can be viewed at Clayton's Framing and Janet's Art Gallery where she continues to teach the 'Tools of Art' in Whittier. Visit Her at 13211-K Whittier Blvd behind Jack's Restaurant in the Whittier Plaza mini-mall. Open 10am thru 5pm Monday thru Saturday. See also
www.JanetChurch.com
for more information concerning class hours and scheduling.
Featured Artwork
(Click on a piece for more information)