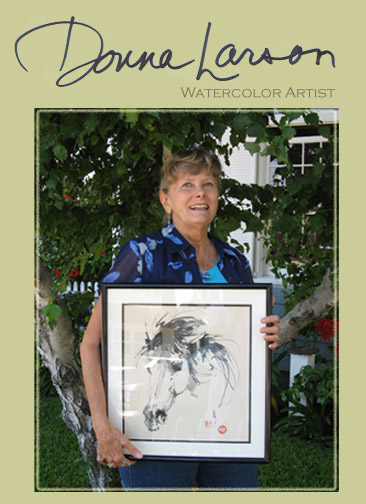 You can reach Donna Larson at:
dmlarson50@aol.com
See All of Donna's Watercolor Paintings
I have always been interested in all kinds of art and have been drawing and painting for as long as I can remember. I have a fine arts degree from Cal State Fullerton specializing in drawing and painting.
While working full time and raising two boys, I continued to take art classes and settled on Chinese Brush Painting to explore and perfect. I became intrigued with the loose and free style of this type of painting called Po Mo (meaning to throw ink or paint). The brush dances across the paper, laying down paint in a spontaneous manner.
Having recently retired, I now have time to develop my watercolor techniques (a combination of eastern and western styles). My subject matter comes from the places I've been and the things I have seen. Besides landscapes, I love to paint animals, especially horses. Watercolor lets me depict my enthusiasm for nature's beauty. I like to capture the light within the white paper, by surrounding it with dark shadows and various textures. To me, light represents energy.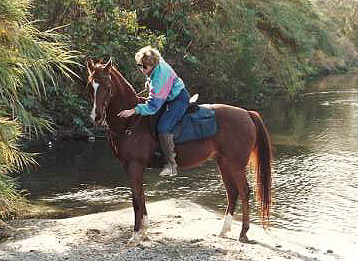 Donna with her horse, Tino, in the San Gabriel River Bed in Pico Rivera.
In the past, I have studied Chinese Brush Painting with Ning Yeh and I'm taking a watercolor class with Tom Fong. I have exhibited in the Whittier City Hall, The Community Theater and recently in the Whittier Library. I belong to the Whittier Art Gallery and have had several group shows. I also participate in member shows were I have received awards. Besides The Whittier Gallery, I also belong to La Habra and Chaffey Community Art Associations. I participate in the Hillcrest Fine Art Festival each year, entering the juried show and demonstrating how I burn the designs on hard shell gourds.
Several years ago I began alternating between working on a flat surface (
watercolors
) and a three dimensional art form (hard shell gourds). The gourds come in many shapes and sizes, each one has its own unique color, patterns and textures. These characteristics help me to decide what I am going to create. It's refreshing to be able pict up a gourd and hold it in my hands. I can then view it from many different angles to find out where I need to go with the design. First I burn the pattern onto the gourd, then I paint it with acrylics. Sometimes I cut the top off and clean out all the seeds and make a lidded container.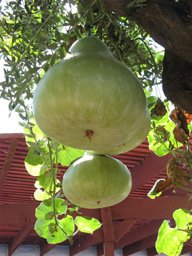 At times I will cut out parts of the design, giving another dimension to the gourd by letting light pass through. When I think I'm finished I apply a clear coat of acrylic to protect the finished piece.
I planted the gourd plants near my Olive tree and the vines started to climb up into the top of the tree. It makes it look like the Olive tree is growing the gourds. I just recently picked these and it will be about 6 months before they dry and I can paint on them.
Featured Artwork
(Click on a piece for more information)