You can contact Annie Surbeck at:
anniesurbeck@whittierartists.com
All Paintings
I have loved art since childhood, but as a high school student, I decided to pursue a career in the Art of nursing as opposed to a Fine Arts path. One of my patients gave me a small set of watercolors after learning of my interest in art, and told me to always see beauty in the world… a lesson I would always keep close to my heart.
I enjoyed my career as a registered nurse for more than 40 years…caring for and bringing comfort to others, touching their lives. I have discovered on a personal level, that Art can have the same effect. I find great joy when a piece of my artwork brings a person pleasure or solace in sharing my vision of the beauty that surrounds us every day.
My pursuit of art gave me total freedom to try what I wanted and express myself in totally new ways. Art should be fun... and for me without hard and fast rules. I work in watercolor, mix media, photography, and my newest passion, wax pastels. I have also moved to a smaller format that will draw the viewer closer – a more intimate encounter with ART. I am able to mix media …paint my mats and incorporate them into the art… and indulge in another favorite activity, shopping for frames, art supplies, and new unconventional painting tools.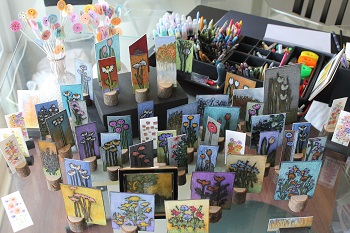 Art offers great diversity in style, medium, size, and color. My palette changes with my surroundings. When I lived in Colorado, there were the brilliant yellows and golds of the aspen and red earth that gave-way to the white grey palette of winter. My visits to Taos brought more purple and bright blue to my work. My husband and I moved to Whittier in 2017 from Greeley, Colorado. California has brought me even an even greater range in hue with a diverse landscape and the never-ending blooms of flowers!
People are the greatest treasure of my Art experience from the patrons of my work, to all the fellow artists I have met along this journey… in them, I have found the support and encouragement to continue my art adventure!!!
Featured Artwork
(Click on a piece for more information)